Wednesday, June 2, 2004
Top Stories
iPod, Annotated
by Laura Conaway, Village Voice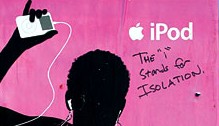 An itinerant inkster bites Apple in NOHO — and the public bites back.
News
Mac OS X Update Reveals New Power Mac Model
by Katie Marsal, AppleInsider

American Film Institute And The Mac: Happy Bedfellows
by Casey McKinney, MacNewsWorld
With its emphasis on hands-on learning, AFI can't waste time on bad technology, so according to the school there's no question what the preferred OS is. Here, it's Mac all the way.
Apple Lines Up For Toshiba's New 60GB Drive
by Martyn Williams, IDG News Service
Toshiba is planning to launch a 60GB version of its 1.8-inch hard disk drive in the coming months and has already found a customer in Apple, the company said Wednesday.
School Laptop Proposal Gets Mixed Reaction
by NBCSandiego.com

iBook Goes To High School
by Julian Bajkowski, Computerworld Australia
Arthur Philip High School in Parramatta has taken posession of 100 Apple iBook laptops to gain the sort of Internet access its better resourced peers take for granted.
High-End iPod Speakers Unveiled
by Macworld UK
iPod users with a passion for audio are promised "the baby brother" of the studio monitors used by Brian Eno and others by Eclipse Time Domain.
Retail Oriented: At The Latest Apple Store, Jobs Is In The Details
by Andrew Blum, Metropolis Observed
Here is a Zen guide to the San Francisco Apple store. Any similarity to their computers can't be helped — because who is Apple to question essential truths?
Matias Offers iPod Armor Mini
by MacNN
New Card, Old Cube
by Leander Kahney, Cult Of Mac
Someone has shoehorned an ATI Radeon 9800 Pro graphics card — one of the fastest on the market — inside a Cube.
MS Headhunts Apple UK Chief Lawyer
by Macworld UK
Aladdin Announces Internet Cleanup 2.0
by MacMinute
The software also now cleans up e-mail attachments and instant mesaging log files to protect confidential information.
Apple Planning Stanford Shopping Center
by MacMinute
Piper Jaffray Raises Apple Target Price On iPod Sales
by MacMinute
"We believe AAPL shares can achieve our $32 price target within the next several quarters through continued growth of other products (i.e. iPod, software, etc), but will need sustained growth in Mac and/or significant product inroductions (or material iPod upgrades/changes) to get the stock to the next level."
Record Labels Change Their Tune On Free Web Music
by Chris Nelson, MacNewsWorld
"A year ago, there were certainly labels that weren't willing to release any single prior to the CD being released," said Eddy Cue, vice president for applications and Internet services at Apple, which operates the iTunes download store. "I'm not aware of anybody who falls into that equation today. Everybody gets it now."
Mariner Software Updates Mariner Write With Expanded Languages
by Mac Observer
Opinion
Should Apple Make Games For The Mac?
by Dennis Sellers, Macsimum

Microsoft V. iPod: Is It The Software, Stupid?
by Remy Davison, Insanely Great Mac

Rock On, iPod: What Jobs Must Do To Maintain Apple's Dominance
by Peter Burrows and Tom Lowry, BusinessWeek
Apple needs to embrace the new ways consumers want to buy music.
Apple: Fit For IT, Less Fit For Print
by Tom Yager, InfoWorld
Mac coverage in non-Mac-orietned IT publications will swing back into vogue. When it does, I'll be there.
There's A Real Mac Curiosity Thing Out There
by Mike Fletcher, MacMove.com
"That is so coo," somebody says pretty much all the time.
A Matter Of Perspective
by Jason Snell, Macworld
Sometimes a perspective shift will only throw the quality of Apple's products into sharper relief; other times it will reveal where Apple has fallen down. Either way, it can be a useful experience.
Review
Digital Music Superguide: Everything You Need To Know About Using Your Mac, iPod, And Stereo To Play Your Music Throughout The House
by Christopher Breen and Michael Gowan, Macworld
To help you get the most from your music, we've put together a package with insights on ripping and organizing your music collection. We'll also show you how to pump the sound all around the house, beyond the limitations of your Mac's tinny speakers or your iPod's headphones. And you'll discover how to create your own songs with GarageBand.
The Game Room: Unreal Timing
by Peter Cohen, Macworld

Retrospect 6.0: Powerful Backup Program Adds Panther Compatibility And Enterprise Features
by Adam Engst, Macworld
Large companies with significant backup needs, and people looking to move up to backup software with network and large media support, should upgrade to version 6.0.
Putting iLife To Work
by Eric Schumacher-Rasmussen, EMediaLive.com
Apple's iLife '04 boasts enough power and features that more and more post-production and videography professionals are using it in their studios. What does this consumer app have going for it that makes it a hit with the pros?
Integrating Ant With Xcode
by Derek Haidle, O'Reilly Network

12 Inch G4/1.33 GHz PowerBook Vs 15 Inch G4/1.5 GHz PowerBook... How Much Faster Is It
by MacReviewZone
Emagic Logic Pro 6
by Brian Smithers, MacNewsWorld
If you're a Logic veteran, the newest version provides plenty to keep you excited. If you're considering becoming a Logic user, it offers some good reasons to give it a try now.
Matias Corporation's Tactile Pro Keyboard
by Derek Warren
Join the mechanical keyswitch crusade and not only will your keyboard enjoyment factor go through the roof, but your co-workers or significant other will never question your productivity again.
A Look At Apple's New G5 Xserve And Xserve RAID
by Yuval Kossovsky, Computerworld
The units are clearly enterprise quality, and given the low initial cost, and low power draw and heat output, data center managers everywhere should welcome them.
The Print Shop Mac OS X Edition 1.0: Design And Desktop-Publishing Package Debuts In Mac OS X
by Kelly Lunsford, Macworld
The Print Shop Mac OS X Edition 1.0 is a truly elegant application and a great tool for any creative project. Thanks to its many templates and its simplified interface, the program is easy enough for young family members to use and versatile enough to allow for true creativity.
Apple iBook G4
by Chris Jerkins, The Australian
The iBook G4 1GHz is great value and may even tempt, dare we say it, one or two Windows users.
Wintel
Microsoft Offers Peek At New Media Player
by John Borland, CNET News.com
The biggest changes in the new "technical beta" software will be invisible to most users until new portable music and video players reach store shelves this summer and fall.