Sat, Jan 10, 2015

Day of the Links Gallery

Day 10 of the new year. Are you still keeping your new year resolutions for this year? Or are you still keeping your new year resolution of 1993 of not making new year resolutions?
The Global iGallery: The Stunning Images Set to Go On Show in Every Apple Store Around the World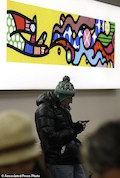 Apple commissioned the work of 12 artists at various stages of their career to create works meant to inspire.

The artwork, done on iOS devices and Macs using various apps, is displayed on Apple's website as part of an ad campaign called 'Start something new.'
Computing for the Visual Impaired, Part 1
If you have fully functioning eyes, conduct a thought experiment on how you would navigate your life without them. How would you earn a living, keep up your home, maintain personal hygiene, take care of your loved ones, and transport yourself from one place to another?

Now reduce the experiment to just one significant area of your life: digital data. How would you communicate with people, access your personal information, pay your bills, track your finances, and submit your work? Even for those whose jobs don't involve computers — which is increasingly rare — much of our lives involves electronic screens and digital data. For "knowledge workers," computers are integrated into the things most important to them: work, identity, creativity, and connection.
Ozobot: The Tiny Robot That Comes Alive on Your iPad
Darting around on top of my iPad screen, two little Ozobots seemed to have minds of their own, which is sort of true. They are robots with sensors that let them follow lines in a variety of colors and even respond to simple programming commands, also made up of short colored lines.
The Fundamental Flaw With EU 14-Day Refunds: You Keep the App Forever
What happens is the app gets removed from your 'Purchased' account history, so it's not possible to re-download the app from the store. However, as long the app is already downloaded to a device, the file never gets deleted and never stops working. This means the app is still accessible from the Home Screen and is fully-functioning.
This is a flaw, but I do believe most customers are honest. Those who do resort to this 'loophole' to get apps for free will probably pirate the same apps if this loophole is closed.
OS X Spotlight Glitch Exposes IP Addresses and Other System Details to Spammers
A glitch arises when OS X Mail users utilize Spotlight search in OS X, which includes emails in the search results. Spotlight ignores the remote content block preference from Mail and loads the remote email files as part of the search process. Once Spotlight loads one of these tracking pixels, spammers can glean details such as the IP address, OS X version, browser details, and the version of Quick Look being used.
Software is hard. Good software is way harder.
Stuff For Your Computers
Four apps (and some audio recordings) to help you get a better night's sleep (Kirk McElhearn, Macworld)
Microsoft updates OneDrive for iPhone and iPad with push notification support and more (Rich Edmonds, iMore)
CBS News for iOS goes 3.0 with fresh refresh, universal support and new features (Aldrin Calimlim, AppAdvice)
Apple Emerges As a Promising Internet of Things Platform at CES 2015
"In my opinion, there's only going to be two platforms: HomeKit and Nest," said Allen. "When you get so many platforms—SmartThings, Wink, Nest—it becomes confusing for developers and consumers. I'd argue you're going to see less platforms and more adoption of HomeKit or the Google Nest platform. It's one or the other or both. Consumers want the ability to go between the two."
In a World of Phones, Gadgets Must Adapt

Farhad Manjoo, New York Times:
Here's the important lesson for consumer electronics companies: The future of tech may not be in flashier, more powerful hardware, but instead in services enabled by clever software. The gadgets matter, but only if they allow for software that can create useful, perhaps groundbreaking services that work across all our gadgets.
When Autocorrect Goes Wrong (and So, So Right)
Jessica Bennett, New York Times:
Botched autocorrects are a byproduct of a technological convenience that allows typing on the go, even when the message does not always come out as planned. Yet as autocorrect technology has become more advanced, so have its errors.
Apple's App Store Hiked Its Price. Here's Why
It accounts for the higher regional taxes and increased accounting costs to sort out the multiple taxation streams, without further cutting into developers' profits from selling through the platform.
Short Notes
Parting Words
Thanks for reading.