Sun, Jan 18, 2015

Day of the About Box Of Yore

I enjoy listening to audiobooks, and I think it is fairly obvious why you don't get good programming books-on-tape. Anyway, here's a little something from the Swift Programming Language. Enjoy!

Why programming manuals aren't on audiobook from simon allardice on Vimeo.
A Few About Boxes From Vintage Mac Applications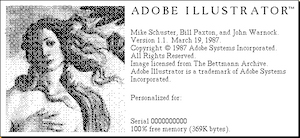 So the other day I was going through some old CD-ROMs and backups, and found an unmarked CD-ROM I had absolutely no idea as to its contents. Even after inserting it in the PowerBook 1400's optical drive, and double-clicking on its icon, what was displayed was completely unassuming: a .sit archive called Mac OS 7.5.3 and a disk image simply called disk1.dsk. At first I dismissed this and just thought it was a backup of the installation disk(s) for System 7.5.3. When I finally mounted that disk image with DiskCopy, though, I found a little gold mine of vintage applications and games.

I started going through them one by one (the applications, at least; the games are more than 200!), and invoking their About boxes to find out exactly which version they were. I found some very old versions of popular applications and — equally interesting — there were also not-so-old versions of popular applications but in French and even German. I thought this exploration was worth capturing, so I took a few screenshots. Here's a selection of the most interesting findings. Enjoy.
Credit Where Due
But most importantly of all, Steve promised Bill that he would receive public recognition for his work on Macintosh. Mac programs had an "About Box", a descriptive dialog box invoked by the first command in the leftmost menu, which would display the author's name. Furthermore, Bill could display his name in the title bar of the main window each time his graphics application was launched. Finally, Steve promised that the Macintosh introduction would acknowledge the folks who actually created the design, rather than the managers who supervised them.

Steve was true to his word, and the seven people that he designated as the "design team" were featured in various ways during the Macintosh launch. Chiat-Day even filmed us for a series of television commercials, which never aired because they were deemed too self-congratulatory. It was fun to get our pictures in the national press, but it was also problematic, because there wasn't a fair way to draw the line. At least a dozen individuals made crucial contributions to the design, so there were some hard feelings from the people who didn't make the cut.
Can't Take That Away
I learned so much at Apple, and had many profound experiences that shaped the way I see the world both technically and otherwise. I was hired a year or two before Steve Jobs came back, and one of my first joys at Apple was adding my own name to the "About Box" for the Memory Control, which I had taken charge of. And because I could, I also added the names of some friends. I was a little immature. When Steve came back, one of his company-wide edicts was that the names of individuals must be removed from about boxes. I had to commit the source code that wiped my own identity off the faces of the products I had worked on.
Steve's explanation was something along the lines that it was unfair to put the names of a few in about boxes because it was a disservice to all the other employees who were not listed. He insisted that each of them was as important to the success of the company as the people who were listed. Of course he was right, but it didn't feel great at the time.
Secret About Box
David K. Every & Daniel Fanton, MacKiDo:
By moving the mouse around you control the direction the wind. In fact, you can make the flag tear free and fluttering toward the ground and off the screen.
Stuff For Your Computers
Parting Words
Thanks for reading.