Sat, Jan 31, 2015

Day of the Stock-Art Heaven

Do you write a story, and then go search for a stock art for your story, or do you look at a stock art and dream up stories go with the photo? Can I do both?
AOL Is Shutting down Its Apple Blog TUAW
Founded just over 10 years ago in December 2004, TUAW was acquired by AOL in 2005 when it purchased Weblogs, Inc., alongside other influential sites including Autoblog, Joystiq, and Engadget. TUAW currently has 11 editorial staffers, according to its about page.
Why an Apple Employee Created a Company to Help Him Lose Weight
Michael Grothaus, Fast Company:
To hit his new year's weight loss resolution, this ex-Apple employee and journalist became a tech CEO.
I Spent Two Days Using the New Outlook for iPhones
It's hard to imagine getting jazzed about an email app in this day and age. But my early impressions of the fresh Outlook for iOS app that I've been checking out on an iPhone since Microsoft released it Thursday are overwhelmingly positive.
Also:
Microsoft Outlook for iOS Doesn't Live up to Its Name (Galen Gruman, InfoWorld)
The Outlook for iOS UI is much cleaner than the OWA app's UI, which has the clunky Windows 8 design. But the text is too small for many people to read, and there are no settings to change the text size. Plus, Outlook doesn't honor iOS's Text Size settings. If you're over 40, you'll likely need reading glasses to use Outlook on even a full-size iPad.
Nobrow's New App Lets You See through the Layers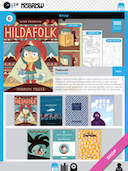 Brigid Alverson, Comic Book Resources:
Nobrow Press co-founder Sam Arthur once described the company's mission as "to publish books that deserved to be printed — and by that I mean they needed to exist as tactile objects that people [can] collect and cherish." This has been borne out over the years as Nobrow established itself as a publisher that paid painstaking attention to the production process.

Given that, it's not surprising that it took Nobrow seven years to go digital, and when it did, it came up with a digital solution that addresses the physical aspects of its comics.
Turn Your Whistling into Song with the Tap of an App
Chordana Composer is a simple iOS app that can take snatches of melody and expand on them according to user preferences.

While the songs aren't exactly works of musical genius, the app is another example of how computers can emulate human creativity.
Audio Hijack 3 Bumps Up the Volume
It will take me weeks, maybe months, to plumb the depths of Audio Hijack 3, as I revise old workflows and set up new projects that formerly required other software or that I found infeasible in its predecessor. This refresh of the app isn't skin deep: it goes down into the inner workings. It will take veteran users some getting used to, but the advantages for old and new users are clear: more power, great flexibility, and less work for better results.
Stuff for Your Computers
Folderol: An Amazingly Useful OS X Utility by One of TUAW's Finest (Steven Sande, TUAW)
While we're busy closing down shop here at TUAW, I thought that I'd write one final app review. It's fitting that it's an app by Aunt TUAW herself, Erica Sadun. Folderol is a surprisingly useful and fun utility that does one thing very well -- it applies custom colors and images to folders in OS X.
Ask the iTunes Guy: Naming Live Sets, Syncing Old-Style iPods with iTunes Match
This week, I look at three interesting questions. How can you label live recordings by date and set? How can you sync from iTunes Match to a non-iOS iPod? And what are those mystery columns that show up in the iTunes library?
Parting Words
Congrats!
Thanks for reading.