Wed, Feb 11, 2015

The Yes-You-Can Edition

Ethan Och is suffering from a muscle disease, and wanted to quit band. Naturally, his teacher Gina Christopherson has a different idea, one that involves an iPad.
Apple Will Invest $850M in California Solar Farm
CEO Tim Cook on Tuesday said Apple is partnering with First Solar on its "biggest, boldest and most ambitious [renewable energy] project yet." The two companies will build a 1,300-acre solar farm in Monterey County in California.

The site will produce enough electricity to power nearly 60,000 California homes. It also is enough renewable energy for Apple's new campus in Silicon Valley, all of its other offices in California, all of its retail stores in the state and a data center, Cook said.
Also:
Tim Cook Speaks: Apple Watch, Apple Pay, and What He Really Thinks of Android (Caitlin McGarry, Macworld)
You'll be in a meeting, and we have a lot fo employees now that are using the watch, so about 10 minutes before the end of the hour, everybody starts standing up. There's just an enormous number of things [Apple Watch] will do.
And:
Speaking of keeping track of your exercise, a just-published study showed that "smartphone aps are just as accurate as wearable devices for tracking physical activity." Someone -- maybe Apple -- should do a follow-up look with the Apple Watch.
Hands On: Paper (iOS)
Paper markets itself to not just artists, but those who like to doodle, as well as those who might need to design hand-made charts, graphs, or technical designs. Because of this, Paper feels similar to drawing on paper.
Stuff for Your Computers
Monument Valley Is a Surreal Exploration through Architecture and Impossible Geometry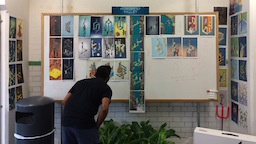 Eight team members from ustwo, the digital production studio behind the game, spent about 55 weeks making Monument Valley. Each chapter is unique, with distinct and separate puzzles, mechanics, story beats, and architectural styles. This creates a visually rich and compelling game, but is a quite involved process from early concept sketches to chapter development, testing, and completion.
Short Notes
The (Hard) Link Between Photos and iPhoto - That's what the iPhoto import inside the Photos app does: It creates hard links to the contents of your iPhoto library inside the Photos library. (Jason Snell, Six Colors)
Building and Running .NET's CoreCLR on OS X (Frank A. Krueger, præclarum)
Wishlist of the Day
I wish I can tell iTunes Match to never ever remove any songs from my "Favorites" playlist on my iPhone even when my iPhone is running out of storage. Because when I am tired or exhaused or sad I want to listen to songs from my "Favorites" playlist. And when these songs are missing on my iPhone I will become even sadder and that's not a good thing.
Maybe I should get an iPod shuffle just to store these songs.
Let Me Tell You About My Operation
Parting Words
Thanks for reading.