Mon, Oct 5, 2015

The Misusing-Private-APIs Edition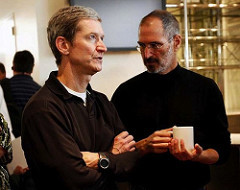 In an internal email to staff seen by The Telegraph, chief executive Cook paid tribute to his former leader and "dear friend", stating that messages and drawings from Jobs' children were still displayed on Jobs' office whiteboard at Apple's Californian headquarters.

"Steve was a brilliant person, and his priorities were very simple," he wrote. "He loved his family above all, he loved Apple, and he loved the people with whom he worked so closely and achieved so much.
(Photo by thetaxhaven, Attribution 2.0 Generic.)
Misusing Private APIs
Palo Alto Networks says YiSpecter is unusual for iOS malware—at least ones that have been identified so far—because it attacks jailbroken and non-jailbroken iOS devices by misusing private APIs to allow its four components (which are signed with enterprise certificates to appear legitimate) to download and install each other from a centralized server.

[...]

YiSpecter first spread by masquerading as an app that allows users to view free porn. It then infected more phones through hijacked traffic from Internet service providers, a Windows worm that first attacked QQ (an IM service by Tencent), and online communities where users install third-party apps in exchange for promotion fees from developers.
Stuff
All aspects of iCloud are now turned on by default when setting up a new device on iOS 9, except for two. Keychain, the feature that saves the passwords and credit card numbers you enter in the Safari browser, still requires the user to manually turn it on. Email will also not be synced without the user turning it on from the settings.
The two new mobile apps Adobe is releasing today include Photoshop Fix and Capture CC. Photoshop Fix was highlighted on stage at Apple's recent iPad Pro unveiling, where it was used on the new 12.9-inch tablet. Photoshop Fix is an image retouching and restoration-focused app that includes powerful Photoshop tools like the Healing Brush and Liquify.

Capture CC, Adobe's second new mobile app, combines the capabilities of several existing Adobe apps including Adobe Brush, Adobe Shape, Adobe Color, and Adobe Hue, making the tools from each of these apps accessible in a single app. Several other Adobe apps like Lightroom Mobile, Photoshop Mix, Photoshop Sketch, Illustrator Draw, Premiere Clip, and Comp CC are also receiving minor updates today.
Paper Review, by Craig Grannell, Stuff
Paper [...] remains a first-rate app for getting quick ideas down and then dabbing virtual watercolours around your digital pen lines.
Compatible with Mac OS X 10.7 and later, it allows you to create eye-popping emails — including HTML emails — quickly and easily without knowing anything about HTML coding. With version 2.5, Mail Designer Pro works with OS X El Capitan and all of its features such as Split View.
Bartender's icon can trigger one of three behaviors: dropping down its own bar, which can be repositioned as you like, its default behavior; or hide application menus so that you can see all menu-bar items or just those you haven't marked as hidden in per-item preferences. Hot keys can be set to bring those modes up regardless of your preference, and to use the keyboard to move through each item.
Since [Instagram] wants to retain its current 12+ rating in order to have a wider audience -- only rated 17+ apps are allowed to feature explicit content -- it has to continue taking down posts that showcase nudity.
Notes
Consumers pay 16.6x more in data costs than top 50 news sites are making in ad revenue.
What is clear to me, however, is that we need a new economic model to replace the current broken one. I do not know what that model will be, but I am confident that it will emerge. The internet will not 'break', any more than the music industry will collapse. Our disruption is part of how that new model will be created and developed. We should not be cowed by the advertising industry, particularly on ethical grounds.
In Silicon Valley, millions of dollars change hands every day as investors hunt the next big thing – the 'unicorn', or billion-dollar tech firm. There are now almost 150, but can they all succeed?
The joint US-European Aida (Asteroid Deflection & Assessment) mission will send a small spacecraft to crash into the egg-shaped rock, known as Didymoon. That asteroid doesn't pose any threat to us — and is far too small to do so — but the mission will be important test for whether our plans would work if we do eventually come at risk of civilisation being wiped out by a space rock.
If this is a sci-fi movie, this will be the point where we all ask, what could possibly go wrong?
Ship It!
Thanks for reading.