Sat, Jan 17, 2015

Day of the Extincted Magazines
Weed Apps Are Dazed and Confused Over Apple's Unpredictable Policies
"Apple really hurt us and our right to assemble, our right to free speech, and our right to mobilize cannabis consumers like any other constituency," Dietrich said by phone this week. "It's ironic that on the same day Alaska and Oregon voted to legalize marijuana, Apple took the opposite approach."
Previously:
Apple Weeds Out Popular Marijuana Game From App Store (Sam Byford, The Verge)
Stuff For Your Computers
Ask the iTunes Guy: Joining Tracks, iOS and Apple Lossless (Kirk McElhearn, Macworld)
I show a couple of ways to have two songs always play together in shuffle mode; look at a question regarding high-resolution files, Apple Lossless, and iOS devices; and I field two questions about adding information to the Lyrics tag of audiobooks files (and how to export text from that tag).
Where Screen Sizes Are Heading
More Sunsetting News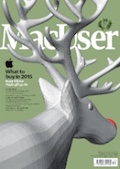 MacUser UK is closing down...
The decision to cease publication of MacUser was very tough and one that was not taken lightly. Unfortunately, due to challenging market conditions, the closure was unavoidable.
Also:
Parting Words
Thanks for reading.