Fri, Jul 10, 2015

The Office-2016 Edition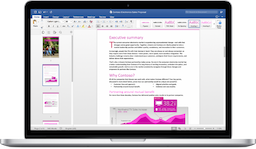 Office for Mac 2016 is available now with an Office 365 subscription. Office 2016 for Mac will become available as a one-time purchase option this September.
OneNote for Mac still lacks the kind of offline support offered in the Windows version, which can create new notebooks without an Internet connection and back notebooks up locally. The core Office for Mac applications of Outlook, Word, PowerPoint, and Excel, can do just about everything their Windows counterparts can.
Mac preview participants provided us with over 100,000 pieces of feedback. Based on this feedback, we released seven updates in four months with significant improvements in performance and stability. We also added features like improved Mail Merge in Word, Propose New Time in Outlook and support for External Data Connections in Excel.

And the best news is that Office for Mac will continue to see ongoing improvements over time. We plan to release updates and new features for Office 365 customers at least once per quarter.
Not An iPhone
Both of today's new advertisements end with the slogan, "If it's not an iPhone, it's not an iPhone."
Bugs Hunting
Though the public beta versions seem quite stable, they're still pre-release versions of operating systems and need to be used with caution. If you've got a spare device, test on that. At the very least, be sure your Mac is backed up.

Also, it's a beta! So be sure to report any bugs you find. Apple includes the Feedback Assistant app with every beta, and that's the preferred way to give feedback about problems you encounter while testing.
Stuff.
I keep most of my smaller files in Dropbox or iCloud Drive, but on occasion I need to grab something like, say, a podcast MP3. There are a number of ways to do this—configuring an SFTP server, for example, or using Back to My Mac1—but the one I've found most handy is using OS X's built-in Screen Sharing.

Now, this does take a little preparation, but the good news it that once you invest the initial time to configure it, you shouldn't need to do it again.
Privacy is a big concern for many people these days, and one way to help protect your privacy is to change Safari's default search engine from Google to DuckDuckGo. Unlike Google, DuckDuckGo does not track you or filter bubble your search results. And it's quite easy to make DuckDuckGo your default search engine in Safari in OS X and iOS.
Develop.
Every new OS X release has its own special challenges, and OS X 10.11 - which I still have trouble referring to as "El Capitan" - is no different. And in our testing (which we commenced immediately upon availability of the developer preview), we found that we couldn't make a copy of an El Capitan disk due to the new system protection or rootless feature.
As a part of this abstraction, there's now a new generic family name: -apple-system-font.
Notes.
As it now stands, nobody in Congress has actually proposed a law mandating these backdoors. Instead, politicians are trying to guilt the tech sector into complying. And President Barack Obama's administration is mulling an encryption policy and could ask Congress for backdoor legislation in the coming months.
Parting Words
Thanks for reading.