Wednesday, June 9, 2004
Top Stories
Apple Releases New Power Mac G5s
by Jim Dalrymple and Peter Cohen, MacCentral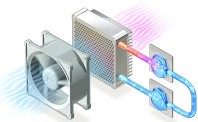 Apple on Wednesday announced new Power mac G5 configurations, with the fastest model topping out at 2.5GHz.
Apple Climbs To 52-Week High On Product News
by David Akin, Globe And Mail
Firm outdoes itself for second day as it plans expansion of digital media portfolio.
News
Mac Cluster Bags Science Prize
by Macworld UK
Virginia Tech is celebrating winning this year's Computerworld Honors 21st Century Achievement Award in Science for its Mac-based world-class supercomputer, System X.
Verdict On G5 Ad Row
by Jonny Evans, Macworld UK
Responding to three complaints concerning two magazine ads, the Advertising Standards Authority found similar criticism justified in one of the three cases.
Apple Computer "Market Perform"
by New Ratings

Apple Case Study: SPE Promos Keep Viewership Up: It's All In The Tease, Really. To Titillate. To Intrigue. To Hint At.
by Apple
"With Apple, we've found a smarter, simpler way to work better. Now our creative people can focus on what they are really good at — being creative."
Teens Take Home Film Award
by Dawn Baumgartner, New River Current
Will and his friends spent a weekend making the film that garnered a "Best Special Effects" award at Virginia Tech's first Progeny Festival of Motion Pictures.
An Interview With Derrick Story (Digital Photo Hacker At Large)
by Kathryn Barret, O'Reilly Network
"I'm a Photoshop CS, QuickTime Pro, and iPhoto guy most of the time. I can do just about anything imaginable with these three applications."
Channel 5 Says 'Go Mac' For Video
by Nick Spence, Macworld UK
The UK's Channel Five launched its new Gadget Show last nght with a strong tint of Apple technology.
Apple Recognized As One Of 'Ten Best Web Support Sites' For 2004
by MacDailyNews

Apple Mini-Store Strategy Falling Into Place
by MacMinute
Construction has begun on at least three of the stores: Standford Shopping Center, Santa Rosa Plaza and Bridgewater (NJ).
Former CFO, Anderson Joins Apple's Board
by Jim Darlymple, MacCentral

Opinion
Misregistered
by John Gruber
The new confirmation dialog that Launch Services presents to prevent unknown applications from being launched automatically will only be presented for, well, unknown applications... So if you previously tried these example expoits without disabling the URI protocols they take advantage of, then these examples will still work after installing Security Update 2004-06-07.
My iLoan Hell
by Sean Bonner, Unofficial Apple Weblog
Once again, Apple's service is the armpit of the company.
AirTunes: Where Does Apple Go Next?
by Jason Snell, Macworld
I do believe that, eventually, iPods will have either AirPort or Bluetooth (or both) built in — it makes too much sense.
Review
Protect Data In Panther
by Kirk McElhearn, Macworld

Timbuktu Pro 7.0: Panther Update Brings Few New Features
by Andrew Laurence, Macworld
With relatively few new features, this release feels more like a 6.5 than a 7.0.
Wacom Graphire3 6x8: Redesigned Tablet-Mouse Combo Provides Great Graphics Value
by Ben Long, Macworld
The Graphire3 6x8 is excellent — a great performer with an outstanding design.
Mac GEMS
by Dan Frakes, Macworld

Mac Attack: PowerBook Performs With The Best
by Carlos A. Soto, Government Computer News

Why iTunes Is So Popular
by Kent Pribbernow, Digital Media Thoughts
Apple got the user experience and ease of use down to a science.
Try These 3 Quick iPhoto Tricks
by Al Fasoldt, Syracuse Post-Standard
Unlike the picture software for Windows that I've tried, iPhoto doesn't insist that you learn anything. It doesn't demand that you read a manual.
A Basic Guide To Enterprise Application Distribution
by Philip Rinehart, O'Reilly Network
Managing Mac OS X on hundreds of diverse computers throughout an enterprise organization creates many challenges for IT managers and staff. As an enterprise system administrator, it's important to evaluate the factors for distributioin and deployment of software by tracking installations.
Office For Mac Speaks PC
by Anne Chen, eWeek

Tangled Up In You
by Christopher Breen, Macworld
"How on earth do you keep your iPod's earbuds from becoming a tangled mess?"
PowerBook G4 1.33 GHz (15 Inch)
by Johan Hansen, Inside Mac Games
As a gaming machine, it's decent. It's not a hardcore gaming machine, but it can play most games out there without any real complaints. But as the system requirements of new games increases, the powerBook will be left behind.
Customizing System-Level Startup
by Ted Landau, MacFixIt
This column provides an overview of what Bootstrap Daemons are and how you can easily create one yourself.
Sidetrack
No Safari For Windows... Yet
by Heng-Cheong Leong
Dave Hyatt clarifies that iTunes does not use WebKit to render the music store.
That would probably means that Apple did not port the web browser to Windows for its iTunes for Windows.
Rumor Today: 30-Inch Displays
by Heng-Cheong Leong
Think Secret: Apple is on the verge of announcing a new, totally, re-designed family of three flat panel displays with the addition of a 30-inch HD-ready model. In what appears to be a major change in direction for Apple, the displays will exclusively use a digital visual interface (DVI) connector and will not come with Apple's proprietary Apple Display Connector (ADC).
Wintel